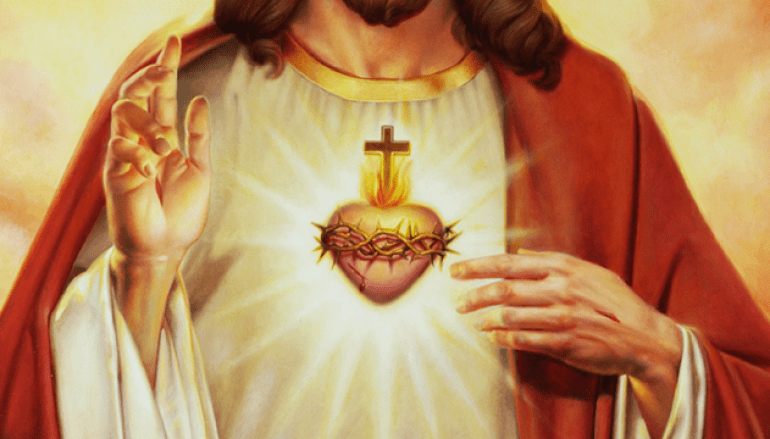 Hola a todos.
En este mes dedicado al Sagrado Corazón de Jesús, les comparto esta oración de Consagración que fue hecha por la Comunidad del Seminario de Filosofía de los Misioneros Servidores de la Palabra, el pasado mes de agosto de 2020 cuando padecimos los efectos de la Pandemia del Covid-19. Falleció un hermano nuestro y nos infectamos otros 12, pero el Señor fue misericordioso con nosotros y nos ha dado una oportunidad para dar testimonio de su poder sobre la enfermedad y la muerte. Espero que esta oración ayude a quien lo necesite en los momentos de dificultad. Les agradezco si la comparten con sus conocidos.
En Fraternidad Cristiana: P. Angel Alfredo Castro González, msp.
Acción de gracias y Consagración al Sagrado Corazón de Jesús.
(Seminario de Filosofía de los Misioneros Servidores de la Palabra. Agosto 7 de 2020)
Señor Jesucristo, Misionero del Padre, te damos gracias por haberte hecho «carne débil» como nosotros, pero sin pecado, y por dejar para los momentos más difíciles de nuestra misión y vida, el ejemplo de tu Corazón Sagrado, que es «manso y humilde y en donde hallamos descanso para nuestras almas»(Mt 11, 29).
Te pedimos perdón por las ocasiones en que nos hemos alejado de ti a causa del pecado, las distracciones del mundo, el activismo o la tibieza. Ten piedad de nuestra fragilidad e inspíranos con tu Espíritu para recordar que «Tú eres la vid, y nosotros ramas, que, si no permanecemos unidos a Ti, nada podemos» (Jn 15, 5).
Llenos de confianza, queremos renovar la consagración de nuestras vidas a tu Sagrado Corazón, el cual se ha mostrado piadoso y misericordioso en estos días de dolor, pandemia, violencia y muerte. Hemos visto las «proezas de tu brazo»(Lc 1, 51), la autoridad que tienes sobre lo que nos rebasa y nos aflige.
La escucha de tu palabra y la manifestación de tu Providencia, en las personas y los medios que han llegado a nosotros, nos han salvado. Las palabras del Salmo han sido experiencia de vida, y ahora con ellas te «damos gracias a ti, Señor, porque eres bueno, porque tu amor es eterno, porque enfermos y afligidos, clamamos a Ti y nos salvaste de la aflicción. Enviaste tu palabra y nos sanaste, ¡nos libraste del sepulcro!» (Sal 107,1. 17-20).
Nos ponemos reverentes en tu presencia y suplicamos a tu Sagrado Corazón seguir encontrando el consuelo que anunció el profeta: «No actuaré según el ardor de mi ira: no volveré a destruirte, porque yo soy Dios, no hombre. Yo soy el Santo, que estoy en medio de ti, y no he venido a destruirte» (Os 11, 9). Para ello te ofrecemos nuestra oración, trabajo, estudio, apostolado y vida fraterna, con todos nuestros límites y miserias, pero también con nuestros sueños, alegría y gratitud en el servicio a los hermanos.
Queremos continuamente repetir como el Salmista: «Refugio mío, alcázar mío, Dios mío, confío en ti», porque quien confía en ti no queda defraudado y recibe de ti mismo respuesta y protección: «se puso junto a mí: lo libraré; lo protegeré porque conoce mi nombre, me invocará y lo escucharé. Con él estaré en la tribulación, lo defenderé, lo glorificaré; lo saciaré de largos días, y le haré ver mi salvación» (Sal 91, 14-16).
Te suplicamos que los efectos de este acto de piedad alcancen a cuantos se han hecho cercanos a nosotros con su oración, caridad y afecto. Y por cuantos se encomiendan a nuestra oración. Por ellos y nosotros, proclamamos en este día: «Sagrado Corazón de Jesús, en Ti confío. Sagrado Corazón de Jesús, en Ti confío. Sagrado Corazón de Jesús. En Ti confío».
V. Virgen del Magníficat, con tu poderosa intercesión.
R. Alcánzanos perseverancia en esta consagración.
Hello everybody.
In this month dedicated to the Sacred Heart of Jesus, I share with you this prayer of Consecration that was made by the Community of the Philosophy Seminar of the Missionaries Servants of the Word, last August 2020 when we suffered the effects of the Covid Pandemic -19. One of our brothers died and 12 others were infected, but the Lord was merciful to us and has given us an opportunity to bear witness to his power over sickness and death. I hope this prayer helps those who need it in times of difficulty. I appreciate if you share it with your acquaintances.
In Christian Fraternity: Fr. Angel Alfredo Castro González, msp.
Thanksgiving and Consecration to the Sacred Heart of Jesus.
(Philosophy Seminar of the Missionaries Servants of the Word. August 7, 2020)
Lord Jesus Christ, Missionary of the Father, we thank you for having made you "weak flesh" like us, but without sin, and for leaving for the most difficult moments of our mission and life, the example of your Sacred Heart, which is "meek and humble and where we find rest for our souls" (Mt 11:29).
We ask your forgiveness for times when we have turned away from you because of sin, distractions from the world, activism, or lukewarmness. Have mercy on our fragility and inspire us with your Spirit to remember that "You are the vine, and we are the branches, that if we do not remain united to You, we can do nothing" (Jn 15: 5).
Full of confidence, we want to renew the consecration of our lives to your Sacred Heart, which has been pious and merciful in these days of pain, pandemic, violence and death. We have seen the "mighty deeds of your arm" (Lk 1:51), the authority you have over what exceeds us and afflicts us.
Listening to your word and the manifestation of your Providence, in the people and the media that have come to us, have saved us. The words of the Psalm have been an experience of life, and now with them "we give thanks to you, Lord, because you are good, because your love is eternal, because sick and afflicted, we cry out to you and you saved us from affliction. You sent your word and healed us, you delivered us from the grave!" (Ps 107.1. 17-20).
We become reverent in your presence, and we ask your Sacred Heart to continue finding the consolation that the prophet announced: "I will not act according to the burning of my anger: I will not destroy you again, because I am God, not man. I am the Holy One, who am in the midst of you, and I have not come to destroy you" (Hos 11: 9). For this we offer you our prayer, work, study, apostolate and fraternal life, with all our limits and miseries, but also with our dreams, joy and gratitude in serving the brothers.
We want to continually repeat like the Psalmist: "My refuge, my fortress, my God, I trust in you", because whoever trusts in you is not disappointed and receives a response and protection from yourself: "He stood next to me: I will free him; I will protect him because he knows my name, he will invoke me and I will listen to him. With him I will be in tribulation, I will defend him, I will glorify him; I will satisfy him with long days, and I will show him my salvation" (Ps 91: 14-16).
We beg you that the effects of this act of piety reach those who have become close to us with their prayer, charity and affection. And for all who entrust themselves to our prayer. For them and us, we proclaim on this day: "Sacred Heart of Jesus, I trust in You. Sacred Heart of Jesus, I trust in You. Sacred Heart of Jesus. I trust you".
V. Virgin of the Magnificat, with your powerful intercession.
R. Grant us perseverance in this consecration.