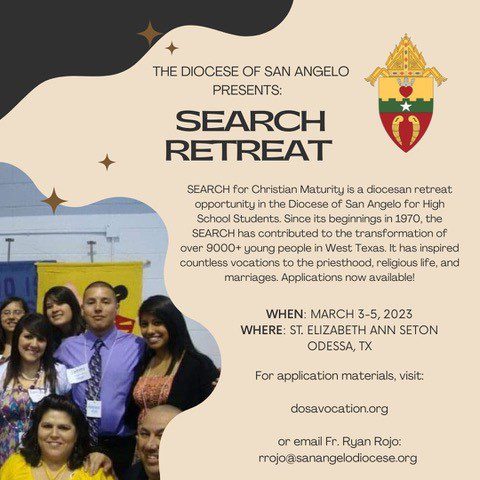 Friends,
The Vocation Office of the Diocese of San Angelo is pleased to announce the date for our next SEARCH for Christian Maturity: March 3-5, 2023 at St. Elizabeth Ann Seton Parish in Odessa!
Bishop Sis made a wonderful video introducing the SEARCH program to our diocese. You can find that video at this link: https://youtu.be/xC53TOTbb98
As you know, the SEARCH program has enjoyed a venerable place in our diocese. It is single-handily responsible for many priestly vocations in our area, including yours truly.
Registration materials for the upcoming SEARCH are now hosted on the Vocation Office Website. You can find these materials here, under the "SEARCH" tab: https://www.dosavocation.org/general-1-2.
The following individuals are members of the SEARCH team. If you are interested in attending and want more information, you can reach out to any of the following individuals: