Comunidad Evangelizadora para la Reconciliación y el Servicio
Misión:
Evangelizar a los laicos para evangelizar con los laicos

Mission:
Evangelize the laity to evangelize with the laity

Actividades:
El apostolado principal es la predicación de la Palabra de Dios mediante los cursos
bíblicos, después, surgen otros ministerios, hasta que se llega a formar la comunidad
CERS. Dos ideas iluminan el trabajo de los CERS: el amor al prójimo, porque se
busca la felicidad; y su perseverancia personal, porque el apostolado confirma y
refuerza su experiencia cristiana. Los CERS tienen sus propios estatutos, y sus
miembros colaboran con la pastoral parroquial sin descuidad el carisma específico que
les ha sido confiado.

Activities:
The main apostolate is the preaching of the Word of God through biblical courses, then
other ministries arise, until the CERS community is formed. Two ideas illuminate the
work of the CERS: love of neighbor, because happiness is sought; and his personal
perseverance, because the apostolate confirms and reinforces his Christian experience.
The CERS have their own statutes, and their members collaborate with the parish
ministry without neglecting the specific charism that has been entrusted to them.
Los ministerios que conforman la Comunidad son los siguientes:
• Evangelización o servicio profético: que incluye a los responsables de grupos bíblicos.
• El Rosario: que se dedica el rezo del Rosario Bíblico Meditado.
• Servicio del visiteo: son los que realizan las visitas domiciliarias, la difusión de la buena prensa y el apadrinamiento para los cuatros cursos básicos de Evangelización.
• Apostolado de Pobres: que se dedica a la atención de los más necesitados.
• Servicios a los enfermos: que se dedica a visitar a los enfermos y llevarles la comunión.
• Catequesis y Pláticas pre-sacramentales. Todo lo relacionado a la catequesis.
• Servicio litúrgico: ayudar en la iglesia con todo lo relacionado con la liturgia.
The ministries included in the Community are the following:
• Evangelization or prophetic service: which includes those responsible for biblical groups.
• The Rosary: the prayer of the Meditated Biblical Rosary is dedicated.
• Visitor service: they are those who carry out home visits, the dissemination of the good press and sponsorship for the four basic evangelization courses.
• Apostolate of the Poor: dedicated to caring for those most in need.
• Services for the sick: dedicated to visiting the sick and bringing them communion.
• Catechesis and pre-sacramental talks. everything related to catechesis.
• Liturgical service: help in the church with everything related to the liturgy.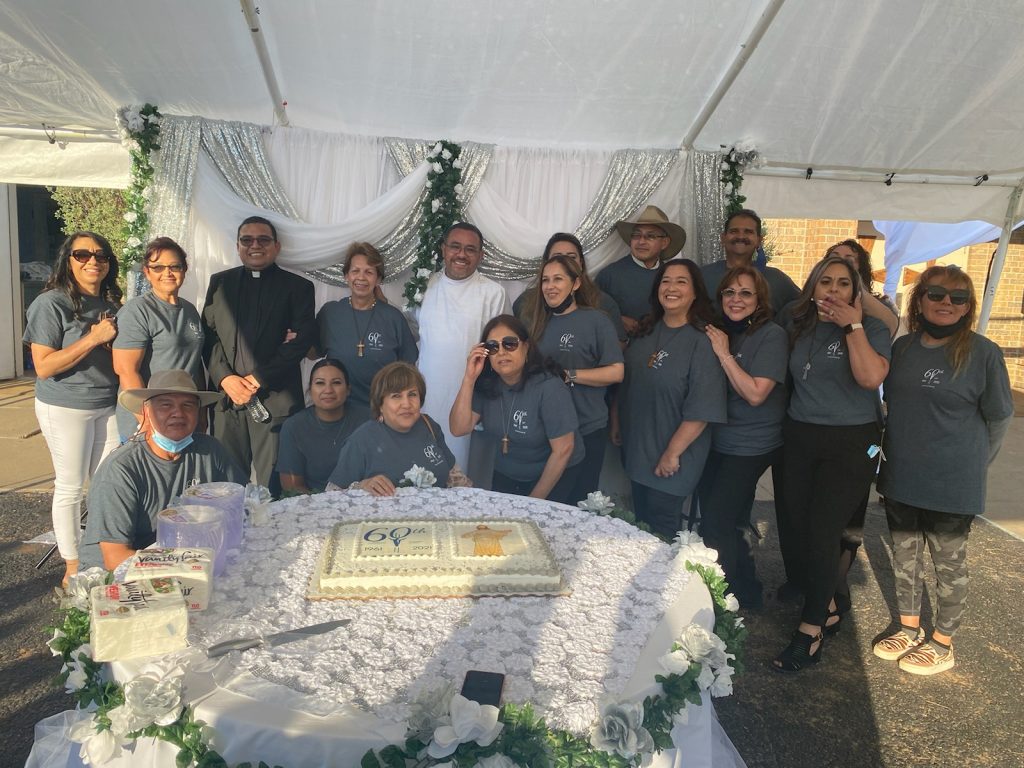 Espiritualidad:
La espiritualidad de la CERS tiene como características principales: la meditación de la Palabra de Dios que ha recibido, la virtud de la humildad, que capacita para obedecer al Señor con generosidad y la vida de oración, que descubre a un Dios que hace eficaz el apostolado.
Spirituality:
The main characteristics of the spirituality of CERS are: meditation on the Word of God that it has received, the virtue of humility, which enables us to obey the Lord with generosity and the life of prayer, which discovers a God who makes the apostleship
Leaders/Lideres o encargados del grupo:
Coordinator/Coordinadora: Maria Payen (432)425-2159
Secretary/Secretaria: Clarissa Peña (432)631-8193
Treasurer/Tesorera: Jose Gallegos
Meetings/Reuniones: Todos los miercoles a las 7:00 pm / Every Wednesday at 7:00 pm
Todos están invitados a participar / Everyone is invited to participate